The Mandela Complex
Now,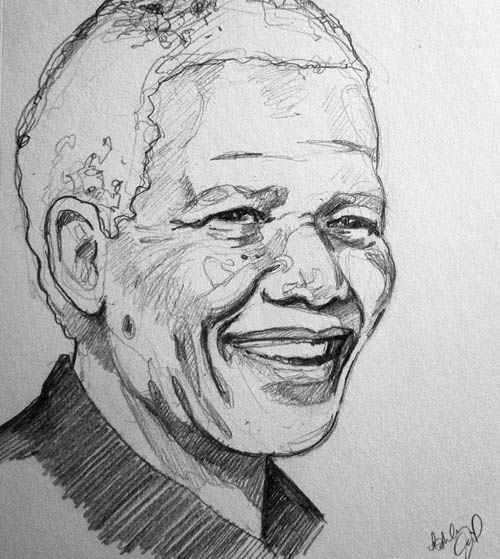 most of us know Nelson Mandela as having been an exceptional leader, his outstanding ability to look past enemity and grudges, his constant struggle to bring love and understanding out of conflict and hatred are worth noting .We also know of some of his famous quotes, some of which he adopted from other great leaders like Martin Luther king, "It's not those who hurt me that I cannot forgive but it is those who could do something but merely stood and watched" (rephrased in my own words). In my country, I must acknowledge the presence of great leaders. However, what I cannot ignore is the continued filth that comes out of the mouth of some of the people we consider the forgers of our futures. The controversial images we see on our screens have displayed the utter lack of etiquette and respect for our nation that our leaders have.
Now back to the "Mandela complex". This idealises a "complex" or rather , a mental condition. Its named after a medical condition because it seems to me that Kenyan politicians consider the characters of such great leaders a disease. His ability to forge a country's difference into its strengths is something they are finding really hard to ape. After a trying period of apartheid, any rational leader (Mugabe) would come out traumatised to the point where any of the tolerant of the former regime he would send away, but he exceptionally chose a different path and embraced what I would consider his enemy, and now south Africa can proudly stand as the most powerful economic block in Africa and its environs. Our leaders on the other hand manipulate our differences and plate them against us. "Being a proud Maasai" a whole minister for culture and heritage ( William ole Ntimama) could not be any more profound in taking a leading role in the Ethnicisation of public debates. In relation to the appointment of the director of public prosecutor under the newly voted in constitution, how does his being a Maasai have anything to do with his credibility as a leader.
A whole member of the Constitution Implementation Committee (CIC) is then spotted asking Mutunga , the controversial nominee to the appointment as chief justice on whether he is gay or not. I know East Africa is indeed the home of Homophobia, but cut me some slack, how does any of this have anything to do with his credibility as chief justice. Give me something else to work with on evaluating his credibility and I will consider, but not the same information that runs on the front pages of tabloid journals. The nature of Kenyan politics continues to disappoint.
I can't help but wonder what will happen to the full bred Kenyans like myself if this ethnicisation is continued. Born of Kisii and Luhya parents, growing up in Kisumu, Schooling in central and living in Kajiado district. To me if I am asked what tribe I am, I proudly name them all. I am a Kenyan by nationality and by tribe ; it's about time this oldies realised that we take pride in our heritage and only for all the right reasons and not the same reasons as they do. It is time they got infected with the Mandela complex and make us proud, that's what we expect of them. That's why we voted them in, not so that they could beaker in parliament and increase their salaries continually. I can't blame them any more than I should, so I will give the devil his due.We also have to learn to desist from hasty generalisations. Not all Kambas practice witchcraft, not all Kisii are hot tempered not all men are dog and not all women are feminists however we all can catch the so called MANDELA COMPLEX and avoid another series of violence like the one that bloodied our soils after successful elections.
Share this post